May 30, 2023
*Very Important ALERT: MCECU WILL NEVER send a text to you unsolicited, asking for your account information. If ever in doubt, call us at 901-321-1200. 
Tips to ensure the security of your account:
Never share your username or password with anyone. Passwords are secure and no one at MCECU will ask you for this information.

Be selective when giving your debit and credit card information out, and never share your PIN number. 

Practice restraint. If something seems too good to be true, it likely is.

If anyone offers to send you money and asks for money back or asks you to send the money to someone else, it is fraud. The transaction will be returned and will leave you on the hook for the amount.

Monitor your accounts often and take advantage of our online/mobile alerts. Report any suspicious or unauthorized activity immediately to our Member Service Center at 901-321-1200.  
FTC Consumer Alert
By Seena Gressin
As unique as we each are, we all look the same to identity thieves: like good targets. To them, it's all about our Social Security numbers, birth dates, account login credentials, and other personal information. But during Identity Theft Awareness Week (January 30-February 3) we can all fight back against identity theft.
FTC Consumer Alert
No, that's not the IRS texting about a tax refund or rebate. It's a scam.
By Gema de Las Heras

IRS impersonators have been around for a while. But as more people get to know their tricks, they're switching it up. So instead of contacting you about a tax debt and making threats to get you to pay up, scammers may send you a text about a "tax rebate" or some other tax refund or benefit. Here's what to know about the new twist.
Read more >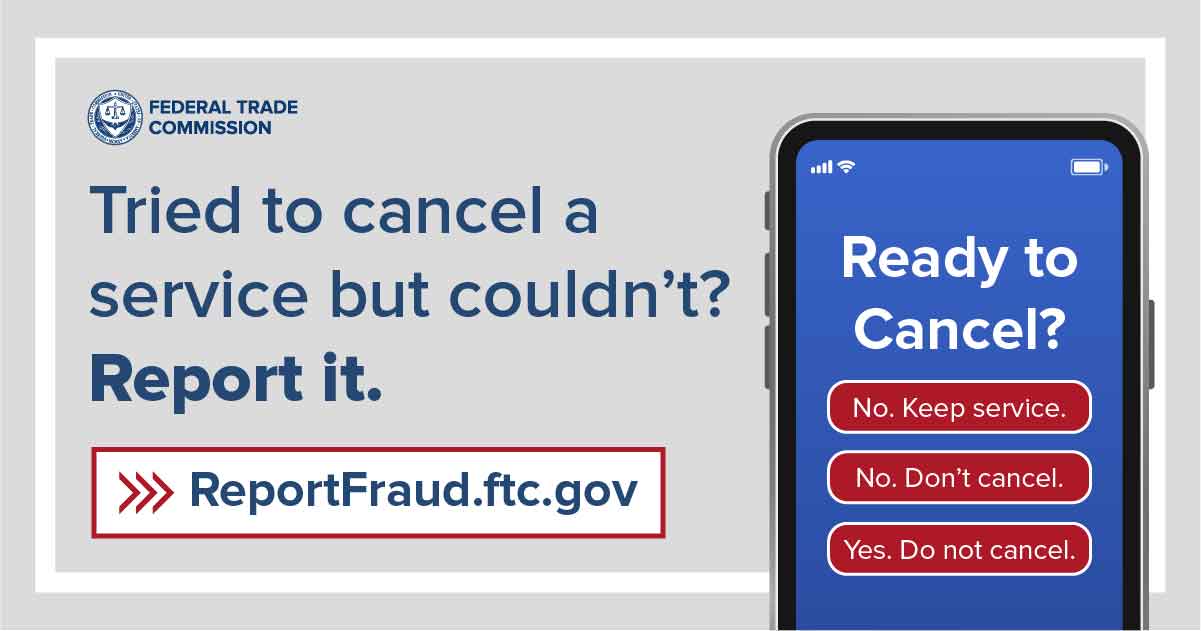 Tried to Cancel a Service But Couldn't? Learn steps to take.

Have you ever been unhappy with a service — like your phone or Internet — and tried to cancel it? But, when you tried, you found it difficult or nearly impossible? Learn about the ways companies illegally trick or trap people who use their services, steps to take, and your rights.
Read more >
FTC Commissioners aren't calling you — really
August 4, 2022
Scammers have been calling, pretending to be people from the FTC. While the names they use might be real, they're actually scammers — some of them hoping to trick you into thinking they're an FTC Commissioner. But they're not. Whether the caller promises you a prize or threatens you with arrest — and even if they give a (fake) badge number — that's a scammer.
So that call from someone who wants your money or info, and says they're Commissioner Alvaro Bedoya from the FTC — or Commissioner Noah Phillips, Commissioner Rebecca Kelly Slaughter, Commissioner Christine Wilson, or FTC Chair Khan? That's a scam.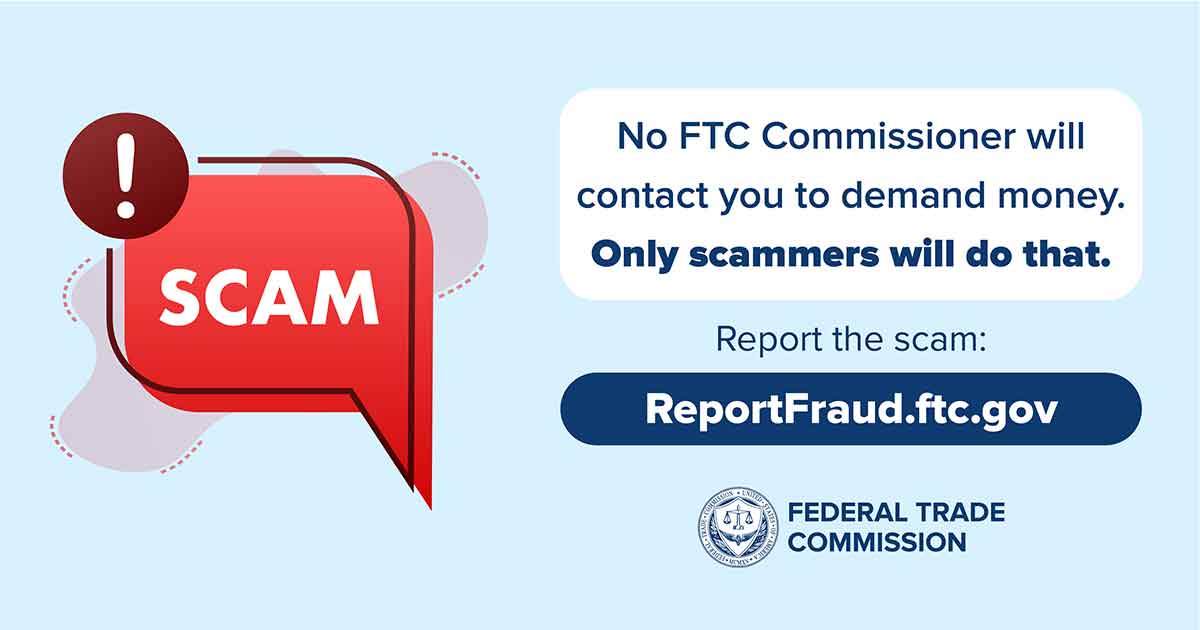 Scammers like these might demand access to your bank account. They might tell you to pay them by loading money on gift cards, buying crypto currency, or using a money transfer service like MoneyGram or Western Union. They could say it's a way to avoid jail, pay a fine, settle an unpaid Amazon balance, or even collect a prize. But it's a scam.
Here are three things to know about this scam:
The FTC won't call, email, text, or message you on social media to ask for money. Anyone who does is a scammer.
The FTC will never call, email, text, or message you on social media to threaten you with arrest. In fact, no government agency will do that. But scammers will.
Never pay anybody who contacts you out of the blue and tells you to pay. Don't give them access to your bank account, don't buy crypto currency or gift cards, don't wire money, don't send cash. Just don't pay them. It's a scam.
Don't respond to anyone who says they're an FTC Commissioner or the FTC Chair — they'll never call you to demand money, threaten you with arrest, or promise you a prize. Instead, report the scam to the FTC at ReportFraud.ftc.gov.
Avoid a flood-damaged used car 
CONSUMER ALERT 
FEDERAL TRADE COMMISSION
Automakers are producing fewer new cars right now due to a computer chip shortage, and many people are looking at used cars instead. If you're shopping for a used car and feeling rushed to buy a car before you can fully check it out — stop! Some used cars may have flood damage. 
After a hurricane or flood, storm-damaged cars are sometimes cleaned up and taken out of state for sale. You may not know a car is damaged until you look at it closely. Here are some steps to take when you shop:
Check for signs and smells of flood damage. Is there mud or sand under the seats or dashboard? Is there rust around the doors? Is the carpet loose, stained, or mismatched? Do you smell mold or decay — or an odor of strong cleaning products — in the car or trunk?
Check for a history of flood damage. The National Insurance Crime Bureau's (NCIB) free database will show if a car was flood-damaged, stolen but not recovered, or otherwise declared as salvaged — but only if the car was insured when it was damaged.
Get a vehicle history report. Start at vehiclehistory.gov to get free information about a vehicle's title, most recent odometer reading, and condition. For a fee, you can get other reports with additional information, like accident and repair history. The FTC doesn't endorse any specific services. Learn more at ftc.gov/usedcars.
Get help from an independent mechanic. A mechanic can inspect the car for water damage that can slowly destroy mechanical and electrical systems and cause rust and corrosion.
Report fraud. If you suspect a dealer is knowingly selling a storm-damaged car or a salvaged vehicle as a good-condition used car, contact the NICB. Also tell the FTC at ReportFraud.ftc.gov and your state attorney general.
Avoiding SSA scams
Scammers stay busy trying to take advantage of people. Some scammers pretend to be from the Social Security Administration (SSA) and try to get your Social Security number or your money.
Here's what to know:
Do not trust caller ID. Scam calls may show up on caller ID as the Social Security Administration and look like the agency's real number, but it's not the SSA calling.
Your Social Security number is not about to be suspended. And your bank accounts are not about to be seized.

SSA will never call to threaten your benefits or tell you to wire money, send cash, or put money on gift cards. Anyone who tells you to do those things is a scammer. Every time.
Talk about it. If you're getting these calls, chances are your friends and family are too. Please talk with them about it.
People who know about scams are much less likely to fall for them. So by discussing them you are helping protect people you care for and people in your community. 

Chat with us!
Our Online Chat Support connects you with the same excellent member service staff that you would speak with, if calling into our Member Service Center.
 During business hours, you can chat with us using both Audio and chat options. Simply click on the chat bubble at the bottom right corner of our homepage or the bubble at the bottom of your mobile or online banking  pages.
 Try it! We are looking forward to chatting with you!
Note: In order for the Chat Bubble Feature to function properly, make sure you are using one of the following browsers:
Google Chrome
Firefox
Microsoft Edge
Safari
Chrome, Firefox for Android
Mobile Safari for IOS/APPLE


Federal Insurance Coverage
The shares in Memphis City Employees Credit Union are insured by the National Credit Union Share Insurance Fund (NCUSIF).