Learn More about Online Banking
View your Deposit Accounts, Loan Accounts, Investment Accounts, Visa and Mortgage.
Under the "Select Option" in the drop down menu you can view Transactions, Download information into your financial tool or folder on your computer, make a Stop Payment on a Check for a $20 fee, make a Transfer from Accounts to other accounts or Loans, or just get Account Information which shows Balance, Available Balance, Dividends paid YTD, Dividends paid last year, as well as other information.
You can Order Checks from the Accounts page by clicking on the Order Checks link, this will take you to our third party site Harland Clarke.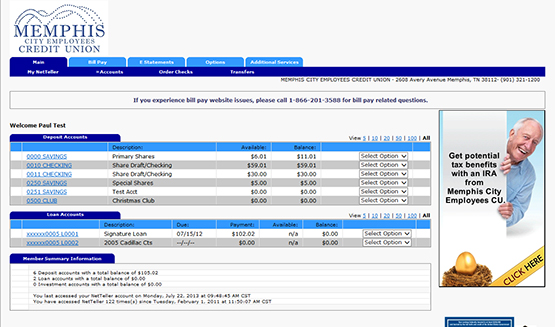 E-statements
Allows you to view current and past Statements as well as download and save to a folder on your computer. You can view current and past Tax Forms and Memphis City Employees Credit Union Newsletters. To sign up for E-statements, click on the Additional Services link at the top of the page, next to E-statements Registration hit the blue continue and choose Electronic Statements from the drop down list and enter your email address, hit continue and submit the disclosure to change from paper to electronic statements.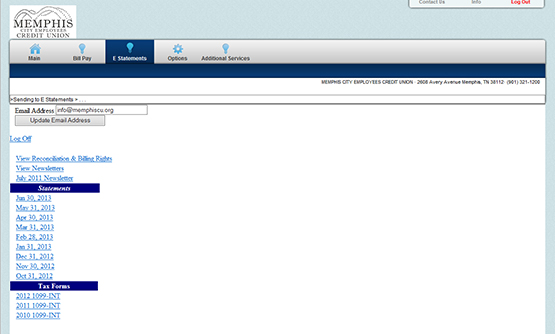 Options
Under the Options tab you can change your email address, set up a password reset question, and change your Watermark image that you see when your log into online banking. You can modify your Net Teller log in ID and Net Teller password.
There are also links to set up Alerts for your accounts. These Alerts can send you an email to let you know when a balance gets below a certain amount, if a large transaction is made, even when a CD is maturing and much, much more; take a look to see what Alerts you can set up on your account.
The Display link allows you to change how your Accounts transactions are viewed upon log in. You can view anywhere from 5 to all of your transactions at once, make a search on your account, view your transfer history. Clicking on the "Account" here in the blue section allows you to change the Pseudo Name on your account (example: 19 checking can be reworded to say Main checking).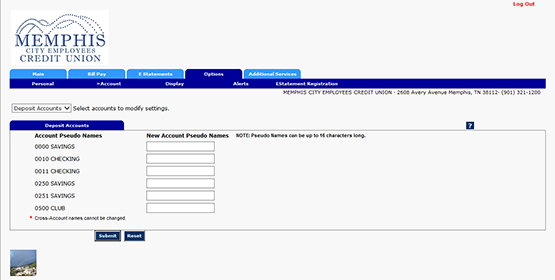 Additional Services
Here you can update your Home Address, make a check Withdrawal to be sent to your home address, view ATM and Debit Card holds and change from paper to Electronic Statements.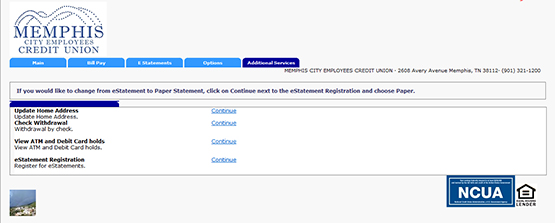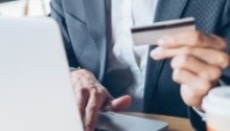 Access Mastercard Online
Log in to access your online account, or register for
an account today!